BoysCasting.com Review
BoysCasting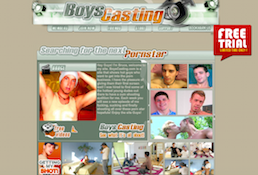 BoysCasting is an exciting gay porn site that will keep you busy long time.
00000
BoysCasting Review
Website Intro
BoysCasting is one of the best gay porn websites I have come across recently. It displays fresh and gorgeous new faces trying to make it into the porn industry. They must show their talents and abilities to all the world to see and it is up to you to decide if you are satisfied enough to make room for them in your fantasies.
Website Layout
BoysCasting is a simple, but a refreshing website. It has a grey background and it is really easy to navigate. Grey is the dominant colour throughout the website, the text is in white and it is readable, fun and engaging. It has a few accents, tastefully displayed and in an orange colour that is not too bright and overbearing.
The menu is simple and it consists of the following buttons, placed under the banner with the logo of the site: members, join now, friends, store, support, and a bookmark option. I have found that the website is fully functional on all mobile devices, but just in case you encounter any problems of any kind, you should know that they have awesome customer support as well. BoysCasting is part of a well-known porn network, the Male Unit network and they are, as they say on the website, the fastest growing gay porn network on the internet. Their professionalism really comes through in their work.
Website Content
The only series regular that you will find on BoysCasting is Bruce, the guy in charge of finding hot guys that have what it takes to make it in porn. He organises the castings and gives these delicious gay men their first screen test and probably their first good fuck on camera. He shows these men how it's done in the art of sucking, fucking and more. Most of the times, Bruce gets behind the camera, in an effort to bring out the best in these hotties and really give the audience a chance to get to know them fully, not just by the ability to suck cock or the size of their junk.
There are a lot of guys auditioning for Bruce. Just imagine that there are about twenty-five presentations per page and there are multiple casting pages within the website. The website updates weekly, so you don't have to be worried that you'll run out of new, sexy gay guys anytime soon. The videos are great though not all of them are filmed in full HD. In true casting fashion, they have to pass the screen test, regardless of the type of filming.
I like that with every video, there is a short description, written by Bruce himself, telling you what the video is all about and what the guy auditioning for the honour of sucking his dick is like. Sometimes, a gay hottie will audition by himself, but other times, they come with their partner or friend. In some videos, the guys don't really make it, but once they refine their fucking and sucking skills they have the option to come back and try again.

In Few Words
BoysCasting is the perfect website for you to get to know new and interesting guys that really want to make it in gay porn. Their skills are second to none and they are all eager to please both Bruce and the members of the site, so you know that the porn they make is really high quality, because of their ambition and dedication. If you want to try something new and possibly meet the man of your dreams, then definitely check out BoysCasting and become a member today.
How much costs enter BoysCasting site?
1 month $29.95
3 months $59.95
1 year $7.45/month