BlackNextDoor.com Review
BlackNextDoor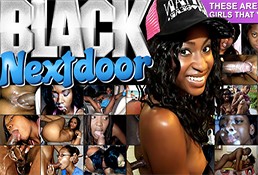 On BlackNextDoor you can enjoy amazing hardcore porn videos.
00000
BlackNextDoor Review
Website Intro
Ebony lovers, rejoice, it is time to search for a place where we can find amateur black girls exploring their sexuality. We are not talking about specific and limited sex, we are talking about masturbation, lesbian, group sex and hardcore fucking with some hard pounding, all of that with the proper amateurish settings to justify the genre's name. We are going to dive into a place where the girls are only black skinned, with the curviest and juiciest bodies this kind of girl can have, where the theme focus not only the scenario but it's respected by the technical aspects of the product as well, from shooting to editing. We are talking about Black Next Door, a site that managed to deliver a high number of top-notch material in a brief time of existence! Unique in almost every aspect, few sites can draw attention as this one in an oversaturated business such as the adult entertainment. So let's try to find what makes Black Next Door so exciting and particular.
Website Layout
The homepage layout may not impress those who know bigger companies. The templates are as basic as needed to portrait the scenes, pictures and other elements of the page and assuring everything is nicely divided. The effort to make the top banner is commendable, with a nice array of pictures portraying the action and the beautiful performers, from the sex itself to the cum glazed faces after the shootings. Basic layout aside, Black Next door have an easy to use search engine to make your browsing faster, a rating system that helps you to see the most interesting scenes in the community, the possibility to favorite scenes and even a comment tab, where you can say whatever you want and share your opinion. The photo index in as basic as the layout, but does not offer difficulty in browsing, as you can arrange the galleries by time of update, name title and popularity. Information is displayed for each set, showing the number of total photos, rating name of scene and date of upload, and of course a preview image. The average number of pictures for each gallery is over sixty, but it can vary a lot, so don't take the number as a real standard. The library has already reached the impressive number of over three hundred exclusive videos and more than two hundred individual image galleries. Making scenes with different scenarios and exploring unique themes turns that number even more impressive, and need to be taken in consideration. The videos are presented in different formats, varying from wmv to mp4, but doesn't have a consistent duration, varying with the theme of the video. So you can expect shot solo scenes and bigger videos with hardcore action. The resolution of new videos is capped at 640×480, for both downloading and streaming with the site's player. Updates are unfortunately a bit scarce for the moment, but that is not a real problem with a library filled with hundreds of content that surely will make you busy for a really long time.
Website Content
The amateur genre attracts some unknown girls to the business, some of them just curious or wanting to explore their sexuality. So there are many low profile models that you will not find elsewhere in porn. That's become one of the more interesting aspects of the production, that tries its best to forget the highly demanded and well known pornstart to give space for sexy amateurs that can offer just as much. The best in the scenes is the natural amateurish recording style that is always present, in solo scenes where the girls constantly rub their clit and play with some big dildos or in hot fucks with girls, guys and sometimes both! There are some intense and kinky atmosphere in the videos, without a saturated illumination to make the scenes artificial, everything you will see looks like a recorded video of real sexy escapades, nothing like high produced studio filming trying to emulate the realism. One of the most interesting aspects is pretty evident in the pictures. You obviously have seen real amateur pictures taken by a couple, with flash in POV of the sex. So, Black Next Door uses this same element, incrementing even more the amateur side of the production. There is some of this elements in the videos as well, but as different media with lots of movements, the light is a little better here. It is almost impossible not to be impressive with the similarity between leaked sex videos and this kind of production, and we are not talking about the lack of quality, exactly the opposite! We are talking about the technical tapping and illumination that gives always an intimate and thrilling realistic scene without the obvious studio treatment often used by other productions, an incredible feat!

In Few Words
If you are a hardcore fan of amateur porn, and doesn't like the studio feel of some of the self-titled "amateur productions", Black Next Door will give what you want the way you like, amateur sex with black girls recorded in genuine amateurish style. The site's layout is not really impressive, but it only selected the necessary elements to make your browsing fluid and fast, not wasting your time or bandwidth with an unnecessary overload of self-promoting pictures and trailers. There is a big collection of scenes already in the library that compensates the unfortunately lack of recent uploads, being more than enough to keep you entertained for a look time. We doubt you will find any known performer, as the models were selected to portrait amateurs, there was a care in not breaking the amateurish of the scenes with easily recognizable faces and consistently contracted girls. The video and pictures have the thrilling and exciting atmosphere of a home-made videos, taking the "next door" nomenclature pretty seriously, and at the same time sustaining a nice quality to be enjoyed in the best way possible. One of the most interesting amateur sites we covered, Black Next Door is waiting for your subscription!
How much costs enter the BlackNextDoor site?
1 month at $29.95
3 months at $54.95
5 months at $99.95