BadMILFs.com Review
BadMILFs
On BadMILFs you will enjoy some of the greatest MILF and threesome porn videos that you have ever watched.
00000
BadMILFs Review
Website Intro
Badmilfs is a promising fresh site offering hardcore MILF porn and a lot of threesomes, it is a place to visit if you want to watch voluptuous MILFs proudly showcasing what they've got and sharing their talents of seduction to other women. Badmilfs has a lot of features that you won't regret signing up for. It's new, it's bold, it's exciting and it'll make your MILF sex dreams come true.
Website Layout
Online for only a few months, it is not a surprise that they only have a countable number of exclusive videos uploaded on their site. Their scheduled update is twice a month, so I'm sure that we'll get a lot more high quality films in a few more months. So far, they have about ten HD MILF films that are definitely worth the watch. Team Skeet never lets you down when it comes to making adult films. Each premium film has the Team Skeet trademark: high class videos, daring and brilliant stars and interesting story-lines that give their films' themes a bit of a realistic edge.
The website is pretty interactive, their films are set out on their own separate pages, so accessing them is pretty easy. From there, you can see the summary and description of the videos, download links and also HD pics from the films. It has a bunch of interactive options that you can utilize and make yourself feel really involved. It allows you to give your ratings, leave comments and they even provide you an index of their models, should you wish to check them out.
Their galleries have over a hundred pics for you to browse and all in HD. Quality is the last of this site's worries. The content of their movie is nothing less of what you've expected from Team Skeet. They have some high-quality videos, great script and porn stars that'll certainly leave you wanting more. The ambiance of their films is mostly homely and it gives their films a realistic edge to their script. So far, there are only about ten films, with a runtime of thirty minutes but each film is just as good as the others.
They have good lighting and sound and the scenes are nicely played out. Their models sure do know how to give the viewer a good time. Their films are shown be to up to 1080p, all in mp4 and will do for your phones. The streaming is up to three or four speeds and you have the full screen option. Downloads are nice and easy, you can take complete files or even just one minute clips if you're not up for the full downloads. Despite the amount of exclusive films that they have uploaded, there are still many ways in which you could enjoy yourself with this site.
An advantage of Badmilfs being part of Team Skeet is that you also get access to more than thirty bonus sites. These sites also offer premium high quality videos and are also accessible within their site. Browsing through them shouldn't be a problem for anyone. Badmilfs comes with a lot more bonuses and extras that you have unlimited access to: it's impossible not to be tempted to subscribe to a membership. You'll definitely have a lot of fun times.
Website Content
Badmilfs is giving more chances to newer stars who wish to display their talents and show the world what they have to offer. Rest assured, they choose their models very carefully as each of them has her own unique ways of seduction. Even the male models are something to be excited about. Some of these models include Emma Hix, Dolly Leigh, Nina Nirvana and others. They have their own seductive flair and they're not afraid to use it.
They'll take their own sweet time but will surely make it worth your while. You can tell that they've definitely made good choices with the casting for the scenes. These girls are horny and wild and they are ready for some action. The theme is unoriginal but Badmilfs has managed to take something old and turn it into something fresh: it was as if they brought something back to life.
Their films are packed with hardcore MILF and threesome action. The scripts are well acted out. The scenes from the movies are slightly different from your average MILF themed movies. If they continue with their semimonthly updates then I am sure that it will attract even more people soon enough. This site has proven to be quite an interesting and fun site to visit. It gives you everything you could ever ask for: top class adult films, eye-catching models, great script and the interactive options for the site. You can even watch other films, since the membership comes with bonuses entrance to over thirty sites. You can have fun with those whilst you wait for Badmilfs' upcoming updates.
Team Skeet has once again, failed to disappoint. They've lived up to their reputation of making top rated and high quality adult films. I think that this site, with time will sprout into something more…something bigger. Plus, who wouldn't enjoy the unlimited access to over thirty other sites? Just another perk of Badmilfs being a part of Team Skeet. You'd see loads of hardcore and threesome sex. You got to love it.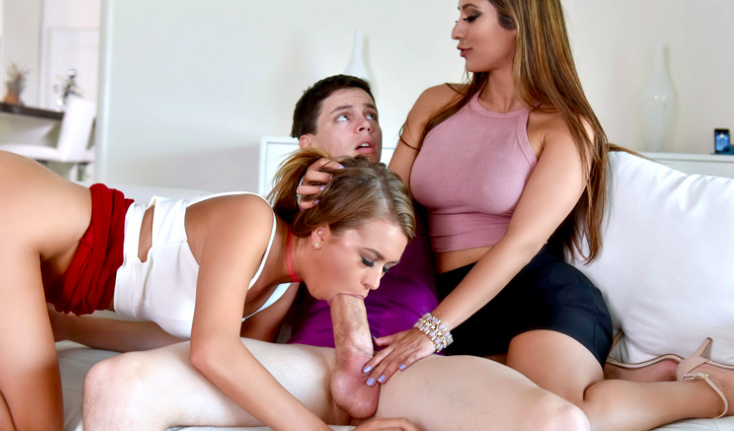 In Few Words
If they are consistent with their updates, there's no doubt that they will become one of the top-rated MILF-threesome websites in the industry. They contain promising content but they still need time to grow. Still, with Team Skeet on their side, there are not a lot of things that they should have problems with. They certainly give interesting and naughty twists to your average MILF fantasies.
How much costs enter BadMILFs site?
1 day $1.00
1 month $24.87
3 months $16.62/month
1 year $95.87