BackRoomFuckers.com Review
BackRoomFuckers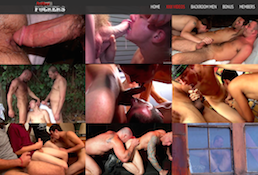 BackRoomFuckers is great site that every lovers of gay porn should try.
00000
BackRoomFuckers Review
Website Intro
The BackroomFuckers is a five years old website, with raunchy hardcore sex videos, starred by some pretty hot lads, coming from the twink and daddy ages. This porn site offers you exclusive content, promises regular updates, and seems to endeavor to get you the best quality you may hope for. As far as exclusivity is concerned, we have to give them that they really have unique content, and during our review we haven't got the feeling of having seen these scenes before. So, the matter of exclusivity is checked. We inspected the site's updates frequency too, which is a bit interesting, however it's not bad.
At its current stage, the BackroomFuckers have a monthly update frequency, but they add 3-5 videos a month. This isn't a bad thing, only it might happen that you won't get new content for a month, then from one day to another there are four new scenes added. Surprise! But frankly, the site updates and that's the main thing, so updates checked. The issue of quality is another important matter when it comes to porn sites, and the BackroomFuckers have nothing to worry about – the videos are downloadable in HD. However, the older scenes have lower specifications, they are still looking hot. Another thing about the BackroomFuckers that is worth mentioning is the fact that it has a fine bunch of additional content for you.
As it is a part of the GayPornMegasites network, you get a lot of extra to enjoy. There are five sites included in the membership, and you also get to view content form non-standalone websites/series too. You can browse about 1,200 scenes, and nearly as much photo- and screen caption galleries too. The included standalone sites are: DaddyRaunch, SDBoy, StraightRentBoys, HarlemBoyz and BoysFromPrague, so as you may see it's really a varied compilation to browse through.
Website Layout
As you open the tour page, you will notice that the site isn't too hard to browse. There is a simple menu on the top, offering you some extra navigation options, though in tour mode you can't do that much. Probably the main attraction of the free tour is the option that allows you to gather some actual insight on the content: you can view preview videos. These short clips show you the nature of the content inside, and makes you ready for whatever might you get. The rest of the tour is the usual: thumbnails listed, some teasing about the bonus content and that's it. When you enter, the site's layout changes, and in fact, the overall look of the portal is going to be different. You can see a banner, which features the main menu under it, and an account-menu on the top.
The main menu can take you wherever you want to get, which includes the network sites, the models' list and of course, the content of the site. As extra features, the site grants you access to a forum, and to a store. For additional and more punctual navigation, there is a quick menu on the left, with a search field above it (which has advanced search option too). All of these features are available for mobile too. The content of the site is shot in good quality mostly. However, it looks like they haven't solved the problem of streaming HD, so you have to settle for an SD quality when watching the scenes online. But, as you will see this is still far better than some other sites' crappy online stream. The overall playback experience the site's streaming videos grant is pretty good. As you might expect, the best quality is available if you care to download the videos. There are MP4 files for you, which you can save download and play with no lags or buffering. These files offer a 720p resolution, and though nowadays it's a bit outdated, it still looks very hot, especially when so hot sex is featured in them. The other type of media, the pictures are also pretty awesome. Though there are lots of video caps in the galleries, you can see some actual photos too, which are in high quality and they look sharp and neat. You have the option to save these galleries in zip format too, and it's warmly advised to do so.
Website Content
Fortunately the site doesn't try to sell the content by claiming things that are not true. For example, the BackroomFuckers doesn't claim to offer you amateurs, and that's a good thing. However, the guys here are not the big shot pornstars you can see on the main gay porn websites. There are some newcomers, fresh meat too, who are just eager to show their skills to the audience. You may also find some older riders – they are the worked-out hairy guys usually, who get to control the new hotties. There are some tattoos on almost everybody, and if you enjoy the variety of mixed couples that feature muscle-men and skinny twinks, you will love these guys. The videos are all staged, and though its studio made porn, all scenes have some amateurish feeling about them. What we meant that sometimes the cam shakes a bit, and the videos are shot at places with not too great acoustics. One thing is certain though: there are some pretty awesome sex videos here, and though it's all mainstream stuff, you might enjoy watching as these guys drill each other. The BackroomFuckers have lots of anal sex, group scenes, and there is a surprising good amount of glory-hole action.

In Few Words
When you are a looking around the web for gay porn, you will eventually come to visit this site too. We certainly hope that our review of the BackroomFuckers help you make a decision. To sum up what we learned about the site, we have to say that it's promising, and we really think it's a good choice for those who like gay porn. The sex is exciting, it's mainstream, but still quite hard. With the network access, the membership fee looks much better, and it's a fine deal.
How much costs enter BackRoomFuckers site?
1 month $24.87
3 months $69.84
6 months $99.95