AVAnal.com Review
AVAnal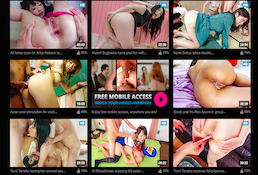 Enjoy the sexiest and hottiest Japanese pornstars and their great performances on AVAnal.
00000
AVAnal Review
Website Intro
From the name of the site itself, AVAnal is an adult website which focuses on anal sex acts and penetration. Not only that, the models on this site are Asian, more like Japanese women. So basically, AVAnal is a membership only pornographic website for adults who has a kinky desire for anal sex and Japanese women. This site is professionally created and is under the management of JAVHD Network. JAVHD Network handles around 15 porn sites of different niches – tits, pussy, outdoor sex and more. All in all, they have around 50,000 members worldwide who enjoy an exclusive viewing of the videos featured on all 15 sites. Yes, you got that right. If you sign up as a member in AVAnal, you will also be able to access all the other sites in JAVHD Network. 15 for the price of one. And yes, all the videos and films in the 15 sites are HD or High Definition. AVAnal is an exclusive, members-only website. This means that only the members who signed up in AVAnal will enjoy the 10,000+ films available in high quality. On this site alone, there are at least 5,000 scenes. The Japanese models of AVAnal and JAVHD Network, in particular, more than 600 of them, are all professional porn stars, actors, and actresses who will provide for you the greatest anal sex fantasy that you have been dreaming of. And to top it all, there are no advertisements of any sort. No annoying distractions and interruptions from your viewing pleasures. If you feel that weekly updates from other sites are cool, well, think again. AVAnal will update their members every single day with new films, new scenes, new pictures, new themes, new models and new positions. This is an overview of what AVAnal can offer.
Website Layout
The layout of the website is pretty good actually. AVAnal is well designed in terms of ease of use and organization of headings. At the top of the page, you will see a picture of a very beautiful Japanese woman wearing lace underwear in the tangerine shade. It is very sexy. She has flawless skin, very creamy, very Japanese like. Her hair is black and her eyes piercing. This beautiful Asian woman is being fucked in the ass in one picture. Another picture of the same girl, with her aroused titties and pinkish nipples, her sex partner looks down at her, almost ready to ravish her smokin' hot body. That's just the AVAnal home page. The headings are not obtrusive in AVAnal. You will be able to read it easily and navigating through it all is a breeze. You will also find the Home page on top. Beside it is the Videos page. If you click it, you will be redirected to the films in HD. You can click Most Recent which shows the newest uploads. You can also click Most Viewed – the films that most of the members are watching at a given time. You may also click Top Rated. Members can rate videos in AVAnal. They can like or dislike. So far, the most liked video has an 83% satisfaction rate. After the Videos page is the Models page. If you point your mouse on the heading, there is a drag down. There are 120 models in AVAnal and each one of them has been named. You can click on a name and from there you will see all about the model. Then, there is the Categories page. The AVAnal site has 33 categories like Double Penetration, Cosplay or Gang Bang. Next on AVAnal, the 15 sites of JAVHD Network have been explained. There are also a Why Us page and their 24/7 Chat Support service. It does not matter how many videos or films you download in AVAnal. You can download all of it and it is just fine. You will also notice that content is not being recycled and that there is new material at least once a week in AVAnal. Watching the videos online is delightful – no buffering or loading alert. You can also search whatever you like on the site. There is a search tool on top of the page. It looks like a magnifying glass and when you click on it, the search bar expands.
Website Content
If you click the Models page of AVAnal, you will see 120 names of the most gorgeous and sexiest Japanese porn stars in the site. You can directly mouse through the names which are the Top Rated model in AVAnal and certainly not in alphabetical order. Or you can click "View All 120 Models" and then you will be redirected to another page. You will see a page where there are new models being added recently. You will also see a sub-heading of the Most Popular AVAnal models. The number one model in AVAnal is Marina Matsumoto. She looks a lot like Ms. Malaysia beauty queen turned martial arts actress, Michelle Yeoh when she was a lot fresher. Marina is really naughty, as her profile explicitly says. And her face is not synonymous with her age. Marina is 46 right now! But she may as well look like she is 30. From her feature video, her pussy lets out a bit of cream while she was being fucked in the ass. Marina is 100% a WOW gal. Yuuka Kokoro is a new model of AVAnal. It will appear that Yuuka is an anal virgin and in one of her videos, her sex partner is inserting a miniature wax-like sex toy in her ass. It will make you horny as hell by just looking at her facial expression. The videos in AVAnal, as already said, are high quality. It is also formatted in High Definition. It looks so real – watching the models getting fucked in the ass – you might as well be part of the film.

In Few Words
The site is well-constructed. It is not confusing to navigate from the computer or a laptop. You can even view the website from your iPhone, iPad or any Android device. Downloading the videos is easy and there are no advertisements. The fact that the site offers free access to 15 more sites is beyond expectation. All the other sub-sites, like AVAnal, are top notch when it comes to film quality and website structure. Plus the option of the 3- day trial, 30-day membership, 90-day membership and annual membership with bigger discounts is such a steal for many potential members. It is a worthy adult website, no bias on the comment here.
How much costs enter the AVAnal site?
3 days $1.00
1 month $39.95
3 months $25.65/month
1 year $12.99/month