AsianSexDiary.com Review
AsianSexDiary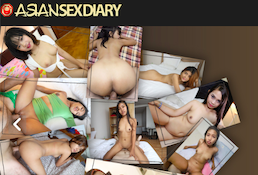 AsianSexDiary gives you sensational porn videos performed by hot and beautiful Asian darlings.
00000
AsianSexDiary Review
Website Intro
Awesome HD Asian porn site, AsianSexDiary gives you the most delectable ladies in the Far East! This reality porn collection is brought to you by an average-looking white guy named John Tron. He might not be handsome, rich, or famous, yet you can easily agree that this guy is definitely living the life! He travels from one country to another, hunts for beautiful Asian darlings, and eventually gets to fuck some of the hottest ladies on this planet! He is naughty and sly, and he always delivers reality porn videos with creative narratives. If you are into Asian sweethearts, follow the adventure of this guy and you'll surely feel more than half of the exciting adventures!
Website Layout
For an amateur reality porn site, it is pretty surprising to find a sophisticated website. It seems that John isn't only good at hunting Asian pussies; he also knows how to present his content in a premium manner. There is no question about the usability of the site because it is clearly presented. There are well-organized sections, categories, and sorting tools as well. And perhaps, aside from the mouth-watering Asian beauties and hot hardcore fucking scenes, the top two things that would inspire you the most to subscribe as a member are the up-to-date content and the low-priced membership deals.
Currently, AsianSexDiary's porn videos are only available for streaming. Anyway, you won't find the absence of the download feature a drawback because the streaming option works well. You can hop from one scene to another with ease. Furthermore, picture sets come with each video and they are all of top quality.
AsianSexDiary also knows how to reward its members. There are treats for loyal customers. For instance, you get points when you renew your membership which you can later use to unlock new videos. You can also unlock information that gives you valuable tips about traveling in Asian countries, just in case you feel the need to visit and meet the Asian ladies yourself!
Website Content
AsianSexDiary boasts a 100% unique Asian porn collection. Even if John finds himself in countries outside of Asia, he still does everything in his power to find a lady who boasts a genuine Asian heritage. The girls are not famous, yes, but John definitely has an eye for a hooker. He goes to clubs, he roams the streets, or he hunts for locals while on travel spots. Sometimes, John offers them money, other times, this guy only uses his charm. Whatever way he prefers to seduce girls, trust that you would see him going back to his hotel room with a hot sweetheart in tow. Inside the room, John does everything that can make a horny guy happy. The Asian ladies could get so hilarious when screaming so you better wear your headset.

In Few Words
AsianSexDiary is obviously all about Asian darlings. It is John Tron's most exciting collection to date, following his another successful reality porn collection called FilipinaSexDiary. While it's undeniable that Filipinas can easily take your breath away with their exotic beauties, you would surely agree that it is always better to have a destination wherein you get to see all kinds of Asian pussies.
How much cost enter AsianSexDiary site?
1 month $1.33/day
3 months $0.99/day
1 year $179.95