AnalDebut.dk Review
AnalDebut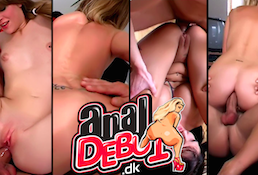 AnalDebut is a nice portal that gives you the opportunity to enjoy nice anal sex videos.
00000
AnalDebut Review
Website Intro
The AnalDebut is a collection of hardcore porn videos, which feature some really cute girls as they get their ass pounded. To make it more exciting, the site has a selection of European porn videos, thus making the whole thing even hotter. This site is not new, and it may look weird at first, but when you enter inside, you will feel you are in for a treat. On its tour page, the AnalDebut doesn't make big claims, its promises are related to the content: hot girls in anal videos, including some first-time anal sex too.
This porn provider website launched in 2012, and it seems to have been updated weekly, so there is quite a good collection in there for you. The videos are dated, so you can always keep up to date with the newest updates. It's hard to tell about the exclusivity of the videos, but we believe that they are exclusive to the company behind the site, even if they might have been published on DVD in Denmark. This isn't sure though, and we settle with telling that it is exclusive.
The AnalDebut is part of the SexAdGang network, and it has a fine collection for you to enjoy if you become a member. You gain access to 10 additional porn sites, all of them offers you some really good European porn, mostly originating from Denmark. The sites all have the "dot DK" extension in their address, and as you will see not everything is in foreign language. You can find two portals included, which focus on one model: DanskeLucy and DanskeNatasha are solo sites of these girls, who perform mischievous solo acts, and also like to do some hardcore and lesbian sex. There are sites with actual porn debuts, which feature past and future porn stars doing some interesting porn. Even a fetish site is featured with cum-shots in focus, but it usually have the content from the other network sites, since they all end with a cumshot. You can browse a site with public nudity, amateur couples having sex for the camera, some hot MILFs have their own site, and you might enjoy the gagging, sex toy masturbation and lesbian videos of the network too. It's an extensive collection, check all of them for some good porn from a cold country.
Website Layout
The tour doesn't offer you too much: you can see some pictures listed – you may also notice that some of these pics are enhanced, so they might not represent the actual video quality. But they are looking good, and the sex in them seems to be really juicy. So, if you are done with looking, it's time to act: the signup is quick and simple, you get to the members' zone in no time. We have seen this template a lot, and it's one of the few older ones which still offer much more options than many of the newly developed ones. There are two areas with menu options. The left of the page features the search field, the main menu and the list of the sites. Among the options of the main menu you can see a bunch of extras, such as the porn stars, the live sex and the DVDs. The live cams and the DVD-videos are bonus content, feel free to explore them.
Your account menu is on the right top of the page, and under that you can find a few sorting options: recentness, rates, number of views or length. Also, there is a menu where you can tell the site to list only the photos or the videos. There are some ads in the members' area, you should look out for them. There are streaming and downloading options for the members of the AnalDebut. To stream the videos, you need to have the Flash installed. The scenes buffer quickly, due to the fact that they are usually 15-20 minutes long and they are in SD. The overall quality of the in-browser viewing is good. Naturally, if you want, you can save the videos too – they are available in MP4 usually, and in SD only. The download speed is good. The AnalDebut offers you a few juicy photos sets too, with over 200 pictures in each gallery. Luckily, you can download them in zip format.
Website Content
The girls you will see in these videos are all authentic Danish hotties. They are Caucasians, though you might find a few ethnic chicks on the network sites. Most of the models are in the 20-30 years old range, so they have a fine, fresh body. We haven't seen any upgraded girls, so fake breasts or filled lips are not playing, the girls appear as they grew up. There is a large number of natural blondes, but brunettes and dark haired chicks are featured too.
The AnalDebut's videos are coming from a semi-professional porn production company, and they seem to get amateurs to do their porn too. In many videos the girls wear a shirt with the site's name on it, thus the exclusivity is ensured. There is usually some talking in the videos, but they get on with the real action quite quickly. The girls suck a cock, and they get their asshole prepared thoroughly: the guys lick it, finger it, and they make the girls get used to it with some dildos. You can see some actual first-time anal fucking – the face of the chicks and their moans are not lying, some of them never had a cock in her ass.

In Few Words
The AnalDebut is a fine portal, and though there seems to be a few issues with it, it's still recommended to all those who enjoy watching hot chicks banged in the in the ass. The movies will satisfy your needs for anal sex, and since they come from a semi-professionals studio, they look even better. The bonuses are also pretty awesome, and European-porn fans who don't want to watch Russian, German or UK porn will find this network to be a considerable alternative.
How much costs enter AnalDebut site?
2 days $1.00
1 month $49.95
3 months $99.95
Check out the other best pay porn sites OR read more on AnalDebut.dk from other famous review sites.