AllofGFs.com Review
AllofGFs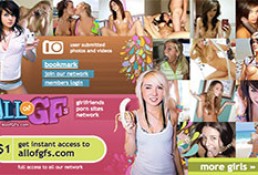 This is a big network with a large collection of porn movies.
00000
AllofGFs Review
Website Intro
The AllOfGFs promises the members access to a large collection of porn movies, featuring stunning cuties, and covering all kinds of sex. The introductory promise of the site is that you can find the videos of 14 girlfriend-focused sites at one place. The site seems to be keeping these promises, and you indeed get access to a nice collection of amateur porn. The AllOfGFs is the main hub of this network, and you can reach all videos from one membership area, and you will it very satisfying, since the videos are many, the girls are cute, and the sex taking place in there is really awesome too. If you take the liberty to join the site, you will see that it's mostly advertisement free; the only third party banners you can find here are located at the bottom of the page. Apart from these (usually) three advertisements, you won't encounter any other, so you won't feel yourself overwhelmed with flashing banners and you won't get distracted by them. The network of the AllOfGFs consists of 14 sites, each focusing on a particular niche, or girlfriend type. You can find sites dedicated to Black girls, Indians, Latinas and Asians, while there is a large population of Caucasian cuties present in the videos. Apart from the ethnic sites, there are some other focus points too, like sub-cultures like the emos, or the self-obsession that is present in the selfies, but there are also sites offering masturbation with sex toys, facials and a lot more. If you were already looking for amateur porn, you should know that there are lots of sites and network out there. I may have also occurred to you, that most of the usually offer the same content, and there so called mega-sites, and fake networks with shared and recycling content. Now, you should know that there are no regulations with the amateur porn, and if someone want to upload his movie, he can do so, he even get some payment for it, and the sites take all rights of the videos. These sites usually offer unlimited download and unrestricted access, so those who download a video, can do anything with it, even upload to other sites. This never-ending cycle is the reason why there are only non-exclusive videos on sites like the AllOfGFs. You can find most of the scenes elsewhere, but this collection also worth a look.
Website Layout
The AllOfGFs has a teaser site, and it offers the visitors the list of the sites, which videos' you can find inside the members' zone. The design of the site looks very good, and it's very colorful, probably trying to give the impression that the girls are all fresh and cute, and that you will have fun watching them fucked. There are no menus on the tour page, only the options for joining or logging in are offered to you. The whole page is a list, you can see all network sites listed, represented by various size thumbnails. If you have peeled eyes, you may notice that the pictures are corrected, probably for promotional reasons, and while the video quality is good, it's not that good as you would expect from the pictures. The inner page where you land after registering is also looking good, and it's just as simple as the tour page, the only difference is that there are actual menus that can take you to the videos list, the pictures and to the sites' list. There is a search engine, so you if you are looking for something in particular you can try to find it more easily. The AllOfGFs grants you unrestricted access to the videos, which means that you can watch them as much as you want, or you can save them to your own computer, building up your own collection of softcore and hardcore amateur movies this way. The videos are not offering HD resolutions, so if you decide to save them all, they won't take that much hard drive space. One of the major strengths of the amateur sites, the girlfriends' sites is the large photo collection they can offer, and this is also true for AllOfGFs, because it offers you a huge collection of sets, featuring all kinds of things from sex to some softcore stripping.
Website Content
The girls on the AllOfGFs are mostly amateurs, but since it's a site depending on user-submitting and collected scenes from all around the web, it's possible that some professionals or semi-professionals are also appearing in the scenes. Most of these cuties are real girls, they are the types that you walk by every day, and almost all of them are the kind that makes you turn back and get glimpse of her ass as you pass her by. They are naturals, and as you may already get if from the site names, there are almost all major ethnicities represented. The videos of the site are all random, they are not scripted. There are lots of things happening in them, ranging from some soft masturbating or handjobs to fetishes and other heavy niches. The girls are all very eager to show what they are capable of, and if you like natural sex you will appreciate these videos, because it's temptingly amateur. There are more than 8000 scenes distributed through the sites of the network, and they are very varied in length, because there are a bunch of longer scenes with 15-20 minutes length, but most of the videos are clips of 5-10 minutes of actual time.

In Few Words
The AllOfGFs is a good site for those who are looking for heavy hardcore porn, and want to enjoy videos of cute real girls, who are not doing it for money or fame; they just want to have fun. And they do have fun, and you can see how much they enjoy having their man's cock inside their pussy. Though the videos may not be exclusive, the site offers a really good collection of porn videos, featuring really gorgeous chicks and varied, exciting sex.
How much costs enter the AllofGFs network?
2 days at $1.00
1 month at $34.95
3 month at $59.95
1 year at $7.50/month
Check out the list of the best pay porn sites OR read more on AllofGFs.com from other review sites.