AllInterracial.com Review
AllInterracial
AllInterracial gives you access to very hot hardcore interracial scenes performed by sexy fresh models.
00000
AllInterracial Review
Website Intro
One of the most startlingly impressive interracial porn sites, AllInterracial sets the bar higher when it comes to interracial porn videos. They have what it takes to break any barrier when it comes to hardcore sex through their interracial xxx scenes. It definitely does not matter whether you're black or white because these hot interracial porn videos show how exciting it is to drill and be drilled without race barriers.
Website Layout
AllInterracial is all about fucking with a different race. In some videos, you will see a Caucasian woman fucking with a black dude. There are also some videos where you will see a Latina girls fucking with a Caucasian female. And this is what you will obviously see at first glance in the site's homepage. There are images of erotic interracial interactions in the banner where most of them are Caucasian female and Black male combination. The overall look and feel of the site is okay. Nothing too fancy to brag about when it comes to the aesthetics. This is understandable though because the site's collection is still minimal and growing. With that, what would be the point of having too many buttons and tools in the site? Instead of bringing convenience to the users, this would only bring hassle to the users. I believe when the time comes that the site expands, it will introduce new features and tools to the site.
As of now, there are only simple search toolbar and navigation tools that you can find in the site. Underneath the banner is where you can find the main menu, which will redirect you to the different pages of the site. Before anything else, membership to AllInterracial also includes 63 bonus sites. Because of this, the site would have a tendency to be crowded. So in order to manage it, the site has put up a dropdown menu where you will only select the contents that you want to display.
There are 21 videos in the collection. Each of these videos is approximately 20 minutes long. They are offered for streaming and downloading without any limits. Streaming the videos would need the flash player, which is already a built-in player in the browser. It is a fast and advanced flash player. It allows you to jump to the different sections of the video without having to reload the video. It also has a good playback quality and the buffer speed is quick. Downloading the videos can also be done in a breeze. There are a lot of download options in the site where you can choose according to your preference.
You can select the file format, the size, and the quality of the video. The file formats available are WMV and MP4 format. The sizes available are 1280×720 and 640×480. You can also select to download a HD or high definition version of the video or just the average quality. Moving on, the photo collection of the site is slightly lower in number than the videos. There are only 16 photo sets and each set contains around 150 photos. The quality of the photos is very fine. It is available in 1280×960. The lighting is excellent and the editing is not too much. Each photo is filled with so much passion and action. Zip file downloads are available for these photos if you wish to download them in bulk.
Website Content
The girls in the videos are mostly Caucasians. In most of the scenes, they are paired with a Black male porn actor. However, I saw that there are also some Latina girls being paired with the Caucasian models in a few videos. Anyway, the models all look very gorgeous to me. They are fresh faced and very charming to look at. There are slender girls while there are busty girls in the collection. There are also some girls that have really large breasts. I have a feeling that some of them have been through breast implants while some are just naturally gifted. Anyway, if you don't like the busty girls, there are also flat chested girls in the collection.
Setting the boob topic aside, the girls are all very sexy in their own ways. They have sex appeal that would drive you insanely horny. This explains all these Black men's reactions whenever they get paired with these horny Caucasians. There is a lot of hardcore stuff in the videos. The foreplay alone is already intense, these girls suck those hard cocks like there's no tomorrow. There are also some pussy licking treats and boob fucking. If you feel like two is boring, you can head for the gang bang sex scenes where a group of five male porn actors take turn drilling the female model. Some videos end with the male porn actor shooting his cum on the girl's face or on her tits. The transition between scenes is also one good thing about the videos.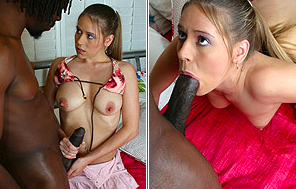 In Few Words
AllInterracial is a good site for me. The site design is simple yet functional. It is not intimidating to use. Aside from that, its videos are very empowering. It sets no boundaries when it comes to sex. Black or white, you can fuck whoever you want to. The models were able to perform very well in front of the camera. They were able to deliver the hardcore scenes without awkwardness.
As mentioned above, membership to the site also includes 63 bonus sites, which I think is a really nice treat from the network of this site. Some of the sites are: Lethal Interracial, Wankz, 4k Desire, Lesbian Sistas, XXX At Work, Huge cock Gloryholes, Round Juicy Butts, Wank My Wood, My MILF Boss, Bang My Stepmom, Make Them Gag, MILF Search, Lethal Creampies, Rap Video Auditions, 360 Solos, Tight Holes Big Poles, Pornstar Tryouts, and Sexy cougars. Each of these sites come from different porn niches so what are you waiting for? You definitely should not miss All Interracial.
How much costs enter AllInterracial site?
2 days $1.00
1 month $29.95
1 year $10.00/month