AllHotIndians.com Review
AllHotIndians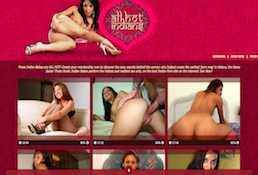 AllHotIndians provides amazing Indian chicks ready to do nasty things.
00000
AllHotIndians Review
Website Intro
The AllHotIndians is the place where you can start a journey into the world of hardcore porn featuring stunning Indian porn stars. These girls will surely make you believe in the power of beauty and as they engage in hard sexual activities you certainly start shaking your boner too. The models here are professionals, and they know how to please a man. This porn page is really old, at least the domain seems to be active since 2004, and the first videos also date to that time. The dates of the videos claim that there are new scenes added every 15 days or so, thus it's not a too frequent site, but it also seems that some content may have been removed, since then quantity doesn't match the age of the site. Don't worry though, there are hot videos and a huge collection of photo sets. In fact, they add several picture sets each week, so you can enjoy here some hot porn pics. The content isn't exclusive, but the collection is quite a definite one. There aren't too much sites featuring only Indians, so if you like this type of girls, you should check it out. And you get a lot more too. In case you decide to give it a try, you gain access to the porn videos of several other sites. The network has no name, at least it can't be depicted from anywhere, but they all have the same company behind them. At this time, there are 10 sites available for browsing if you join, and if you remain active. These sites cover several niches, some of them are fetishist pages. You can even enjoy some adult Flash-games, and hentai videos too. The content isn't exclusive though, these are specific, selected collection, and they are all professionally made.
Website Layout
There aren't much sites that has tour pages with trailers, and it seems the AllHotIndians isn't one of those either. When you open the tour, you can see lots of hot pictures. Scroll down the end of the page, and you are done with it. Those who are here for the hot Indian models will find the site tempting enough, and they should head inside as soon as they can. After joining a handsome members' area welcomes you. Anyone who have prior experience with porn will find the layout really familiar- this template is commonly used all around the web. The top features the search engine, with a menu below it. On the left side of the page, the account menu (favorites, last visited, etc.) takes place, and the keyword tags' list is also there. Navigating through the content is quite easy. With the search option, and the categories menu, you can quickly list anything you want. You may be a bit surprised when you open up the videos' page. One would expect here only SD flicks with a bit grainy picture, but instead you actually get some hot HD videos too. The in-browser access is fine, but it's not the best in quality, though the unlimited downloads will certainly get you going. The large photo sets are also exciting. There are some high-res pictures too, and they are available in neat zip archives too.
Website Content
Indian girls are quite hot, but for some reason, they are not easy to find in porn videos. The mainstream studios hardly work with them, and the European studios doesn't even consider them. And that's quite big mistake, because seemingly the Indian hotties are not just beautiful, but they are also just as good at porn as any other ethnicity. You can be glad for finding this site, because it has a very hot compilation of Indians only videos. Though it's a gathered collection from throughout the web, it's definite, and it probably features all studio-made scenes featuring Indians. Some may think that Indians are all the same, but that's just balderdash. These girls are different from each other, and they are definitely something else than their Caucasian colleagues. Here on the AllHotIndians you can enjoy a neat compilation, and as you browse through the videos, you may see that these girls are really good-looking. Most of them are naturals, hardly any of the have enhancements on her body, so this way, you can live out your fixation for natural beauty and Indians. They are not amateurs, that's quite certain, and fortunately, the site doesn't even claim to offer amateur porn. Some of the girls can be seen in more than one video, and while they show off their body and skills, they are quite seducing. There are mostly solo and straight porn videos there. In the solo scenes, these hotties are playing with themselves – they use their fingers mostly, but some big dildos also appear now and then. If you are just looking for semi-hardcore material, these solo flicks will certainly satisfy your needs. The real fun, and the heart of the collection however is in the hardcore section. What you can find here is a good collection of studio-porn, with vanilla sex. Though the girls are hot, and it's interracial sex, the videos doesn't cover too many of the heavy niches. The guys are all well-hung, so the girls have some hard time taking all in, and it's also quite evident that the lads like it rougher. As the collection comes from studios, you can expect here 15-25 minutes long videos, shot in neat environment. Fortunately, some scene feature gonzo-like approach, so you can get a close look. Nonetheless, the videos have some effort in them, so they are good to watch.

In Few Words
The AllHotIndians have some surprises, though you can only experience them when you are inside. It's certain that the design isn't promising, but the surprisingly nicely working members' zone, the great quality are two major elements you will surely appreciate. In case you enjoy watching hardcore porn on mobile or you prefer tablets, the nice mobile version of the page will satisfy your needs. Naturally, the included sites make the membership worth every penny.
How much costs enter the AllHotIndians site?
3 days $1.00
1 month $29.95
3 months $59.95