21Naturals.com Review
21Naturals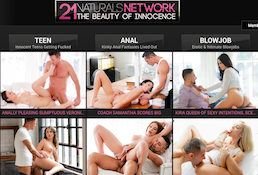 21Naturals offers some of the most sensual and steamy porn scenes.
00000
21Naturals Review
Website Intro
It is not difficult to find a porn site. There are surely a lot of them online. And there are also a lot of premium and quality ones that you can easily sign-up for as well. Our numerous reviews are a testament to that. However, we have found it quite challenging to find a classy and elegant porn site that one could join. It seems that a lot of people are just into flashy and loud types of porn – those that are so adventurous and daring that they have already geared away from some of the most important parts of porn; the things that lead to the sex act itself. We have found that most of the porn scenes today go straight to fucking. Whatever happened to the slow and quiet moments of seduction? When ladies are not sluts, but just highly pleasured and sensual women? Yes, we truly need porn sites like these, where we can comfortably watch porn without twitching or feeling bad. That would be a nice treat for a change wouldn't it? Well, we are pleased to tell you that you can actually enjoy some porn videos of this quality today because we are going to review a really classy porn network, one that contains, even more, porn sites that are styled this way. We are talking about the 21Naturals porn network. It is actually part of an even bigger umbrella network, 21Sextury, which prides itself for the high-quality porn that they provide to their members. In fact, according to the 21Naturals, they are a "new adult network focused on artistic nude photography and tasteful erotica that celebrates natural female beauty". It is no wonder their porn videos are so high in quality – because they consider them as art. If you are already interested in joining the network, then allow us to enumerate some of the porn sites that belong to it. Some of it are 21 Foot Art (which is a site for those who enjoy foot fetish porn), Lez Cuties (for those who want to see girl on girl action), and finally Hot MILF Club (perfect if you enjoy MILF porn), just to name a few. In total, you will get access to more than fifty different porn sites by just paying for one plan. Aside from that, you will also receive access to more porn sites as an additional bonus for signing up, so let us talk about the membership process. There are three types of membership: a one-month, a three-month, and a twelve-month period, and during this time you will receive full and unlimited access to the porn sites that we have mentioned. If you still can't decide, then maybe the trial membership can help you out? They have a one-day trial offer for a very low fee if you still want to take your time and decide.
Website Layout
We love that the entire look is really classy in a feminine way. The website has a black color theme with rose pink accents. You will be able to see this on-going theme in all of the porn sites which gives them a big plus for branding. The entire porn site is really sleek and simple as well. It does not feature any colorful banners, pictures, or ads. It just has a simple navigation bar, then after that, it's all thumbnails. Even the thumbnails are simple, with only their titles on them, and images to show you the scenes that you are going to see in the video. However, even so, we already enjoyed just taking a look at all of the pictures because you can really see the high-quality of the videos. Every thumbnail is shining with clarity and brilliant lighting.
Website Content
And each movie was starred by an incredibly hot porn star, which leads us to the next part of our review – the girls. This porn network stars a lot of famous porn stars in both United States and Europe, particularly the Czech Republic. They all look like they have fallen straight from heaven. All we can say is that the producers and directors of this porn network really have brilliant taste in choosing their porn models. In fact, we think that you might be familiar with some of the names there like Aletta Ocean. As for the videos, all of them are really steamy. A lot of porn enthusiasts would argue that all of the video's image and resolution would go to waste if the videos were not well-made, or the stories are not creative enough to motivate the characters. But this would not be the case here; all of the videos along with their stories are as tasteful as their women. What we love about each of the stories is the foreplay involved. The 21Naturals porn network really understands the importance of the scenes that happen before the sex act itself. They don't rush into things and take their sweet time before they let their characters perform any action. Sometimes, their seduction scene could even take a few minutes into the video, and that is completely okay with us. In fact, we think that it is even better compared to the videos you might find in other porn networks. We love porn! We don't want it rushed. And if you think the same way, then you would truly enjoy every minute of your stay here.

In Few Words
Overall, this porn network is something that is worth signing-up for. It is not even expensive for you to call an investment, but becoming a member of this porn network would really feel that you are investing in a high-quality experience of porn viewing ahead. Other features that we have found notable are the excellent customer support that they provide, and the mobile-optimization of the porn network and all of their contents. First, they ensure all their members that when things go wrong, they have specialists ready to assist with these concerns anytime, and finally, you can take and enjoy your membership perks anywhere as long as you have a digital device around that has an internet browser and good internet connection.
How much costs enter the 21Naturals site?
1 day $1.00
1 month $29.95
3 months $19.98/month
1 year $9.95/month
Check out the best porn paysites OR read more on 21Naturals.com from other famous review sites.