18AndNastyGirls.com Review
18AndNastyGirls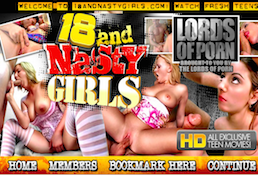 18AndNastyGirls provides a nice collection of hardcore porn videos.
00000
18AndNastyGirls Review
Website Intro
The 18AndNastyGirls is a site where you can enjoy a large number of hardcore porn videos, featuring stunning, barely adult girls, performing hardcore things with their partner. As far as we could detect, the videos of the site are covering several hardcore niches, and it also seems that some of these girls are debuting with these scenes. Though the site was created and registered in 2008, according to the content's dates, the first videos appeared here during 2009. The update schedule was quite infrequent, and the videos were added randomly. At the time of our review, the site doesn't seem to have got new content since 2012, so unfortunately, it looks like it's a closed portal.
We counted 49 videos in the members' area of the 18AndNastyGirls. Good news is that the scenes are quite long – they are usually over 30 minutes, so you can spend lots of fun and sexy hours by watching them. This portal is a LordsOfPorn site, so if you join up here, you get access to all sites of this network. From the members' area, you can browse 23 sites' content – it's really easy – and the overall number of porn you gain access to is very large. As a member of the 18AndNastyGirls, you can view more than 19,000 hardcore porn videos, coming from DVDs and shot for online publishing. The included sites feature only professional porn, and though some girls are only semi-professionals, you can enjoy here some very good performances. In case you enjoy watching hardcore sex, you will surely like these scenes. Apart from the network contents, you get access to a live cam site (FilthFreaksCams) and the LordsOfPorn has a VoD site too, where lots of high quality videos are available on a per minute basis. As far as we can tell, the videos of the 18AndNastyGirls are exclusive, however it's possible that they were published on DVD too.
Website Layout
The 18AndNastyGirls looks simple. The site offers only one bit of preview, in the form of a trailer on the top, which plays automatically. Under this, they placed lots of pictures, showing the girls you can find in the videos. After you enter the site, you can find a simple, but effective portal. There is a banner, and the menu. You can find a link which can take you to the network home. From the main menu, all important aspects of the site are available. A search engine is implemented, which also has an advanced search page for you. There are content tags and a few other options.
Though the site isn't a new one, it has nice playing options: you can watch the videos fully, or you can choose from the clips under the player. When you open a video as a full – that's the default setup – you can jump forward anytime you want. There are usually three options to download: you can save a WMV, and AVI or a QuickTime video. The speed for the stream and for the downloads is good. The Photos section contains actual photos, and if you open them, you can see that they are looking really great. Also, there is a link to the mobile site, so you can access it easily from your smart phone or tablet.
Website Content
The name of this website tells you a lot about what kind of cuties you can find here. They are barely adult fresh chicks, who thought they could make some money or even become famous by doing hardcore porn. Well, they probably don't make it that far, because we have to be honest: most of these girls don't appear on any bigger sites, and these scenes are pretty old. It doesn't take away from the value however, because there are gorgeous US girls, using some interesting stage-names, and getting those snatches fucked hard. What you can find here is a selection of girls under- and deeply in their twenties. The freshest chicks still look quite innocent, but they are really eager to get a hard cock into their pussy. You will find it soon enough that they are not those full-scale, sometimes overrated professionals who scream and moan like mad. No, these hot chicks are all semi-professionals or even real amateurs, and they are looking great.
You can see here everything you could wish for. Smooth-skinned girls with perky tits and firm ass, and there are so much cuties with real juicy natural breasts – like the nasty cunt called Vanessa. In fact, Vanessa represents the usual type of girls here: an eager chick with a fine body, natural appearance. She is a blonde, and by the looks of here, she is surely over 20. The 18AndNastyGirls videos are not too varied. They all feature hardcore sex, performed by usually the same guy, but by different models. In case you are looking for some vanilla hardcore sex with a bit of roughness, this collection will satisfy your needs. Every video is shot in the same room, and the sex takes place on a bed. Though the site calls these models nasty, you shouldn't get your hopes up, because it's just fucking; apart from some spanking and deepthroat sucking there is nothing real hard happening. There isn't much talking in these videos, the girl came to do porn, and that's exactly what they do: they take their clothes off, suck the guy's cock a bit, then go on with the hardcore stuff. Usually cowgirl, reverse-cowgirl, missionary, doggy and tea spoon positions are featured. The different positions and camera angles give the collection that fine edge which makes it varied. You can see some nice close ups, which make the scene look to be somewhat more gonzo-styled.

In Few Words
The 18AndNastyGirls has really hot chicks for you to watch, and the sex in the videos is good. Though the site is closed, the collection is quite good. You have to consider the site as an archive, and if you are looking rare porn you can't find anyplace else, the 18AndNastyGirls and the LordsOfPorn network are good place to start.
How much costs enter the 18AndNastyGirls site?
1 day $1.00
1 month $24.95
3 months $59.95
1 year $7.50/month